SMILE…Though a Tear May Be Ever So Near
"SMILE" originated as instrumental theme music, composed by Charlie Chaplin, for a  soundtrack in the 1936 silent movie Modern Times. It has been a familiar melody since that era.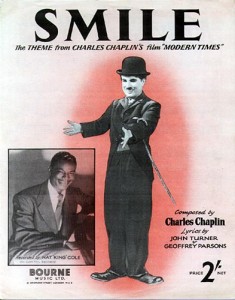 In 1954, John Turner and Geoffrey Parsons added lyrics to the music; and the updated song charted the music billboards at #10 when  Nat King Cole sang, and recorded it, that same year. Since then, dozens of recording artists worldwide have insured that this classic composition remained popular.
Since Nat King Cole's hit, dozens of recording artist have sung "SMILE," including Neil Sedaka, Elvis Costello, Michael Bolton, Michael Bublé, Barbara Streisand, Josh Groban and Zee Avi. To see a comprehensive list of recordings of "SMILE," CLICK HERE, and scroll down to "Other Versions."
Brooke Shields, a longtime, personal friend of Michael Jackson, shared that "SMILE" was a favorite song of his. Michael also dearly loved Charlie Chaplin, from whom he drew much inspiration. MJ said "everybody knows that Charlie Chaplin is a genius, and he's my inspiration."

Original Sheet Music Lyrics from 1954
Bourne Music Ltd.
21 Denmark Street
London

Music Composed by Charlie Chaplin
Recorded by Nat "King" Cole
on Capital Records
Edna Purviance Research Collection