How Long Will Earth Song Be Relevant?
If Michael Jackson and his children have a say in the matter, Earth Song will remain relevant until there is no longer a need for global sustainability, eco-friendliness and humanitarian efforts.
The emotional impact of this song and music video continues to increase awareness of our responsibility, as stewards of the earth and of one another, to live accordingly. The rapid and impressive expansion of Michael's worldwide fan base attests to the fact that his urgent and timely message of L.O.V.E. will continue to spread to the ends of the earth. There is an upcoming generation of inspired 'tweens, teens and young adults who show themselves passionately dedicated to dance in the footsteps of their newly discovered hero, and to walk the talk of healing Mother Earth and her inhabitants.
"Our father was always concerned about the planet and humanity. Through all his hard work and dedication, he has helped many charities and donated to all of them. Throughout his songs, his message was simple: love. We will continue to spread his message and help the world. Thank you. We love you, Daddy." ~Prince Jackson at the 2010 Grammy Awards

Earth Song is the third single from HIStory: Past, Present and Future, Book I. It is a ballad that incorporates elements of blues, gospel and opera. When released as a single in 1995, Earth Song sold over three million copies worldwide.
"I remember writing Earth Song when I was in Austria, in a hotel, and I was feeling so much pain and so much suffering for the plight of the planet Earth. For me, this is Earth's Song, because I think nature is trying so hard to compensate for man's mismanagement of the Earth. And with the ecological imbalance going on, and a lot of the problems in the environment, I think Earth feels the pain, and she has wounds, and it's about some of the joys of the planet as well. But this is my chance to pretty much let people hear the voice of the planet. And this is "Earth Song." And that's what inspired it. And it just suddenly dropped into my lap when I was on tour in Austria." ~Michael Jackson
Many considered Michael's LIVE performances of Earth Song to be a highlight of the HIStory World Tour's set list. In almost every performance, the stage transformed into a war-stricken environment, reminiscent of the music video. Towards the end of the  performance, a full-sized military tank entered the stage symbolizing the horrific massacre in Beijing's Tiananmen Square where, in 1989, soldiers opened fire on war protesters, killing hundreds of innocent citizens.
Earth Song LIVE in Munich ~ 1997
TWELVE YEARS LATER…
Earth Song LIVE in Los Angeles ~ 2009 This Is It rehearsal at Staples Center for the London O2 concerts that never happened due to Michael's tragic and untimely death which occurred a mere days after the filming of this rehearsal sequence.
Thanks to You Tube Channel mmarishkaa ~ MJ fan from Russia
What about sunrise?
What about rain?
What about all the things
That you said we were to gain?
What about killing fields?
Is there a time?
What about all the things
That you said was yours and mine?
Did you ever stop to notice
All the blood we've shed before?
Did you ever stop to notice
The crying Earth the weeping shores?
Aaaaaaaaaah Aaaaaaaaaah
What have we done to the world?
Look what we've done.
What about all the peace
That you pledge your only son?
What about flowering fields?
Is there a time?
What about all the dreams
That you said was yours and mine?
Did you ever stop to notice
All the children dead from war?
Did you ever stop to notice
The crying Earth the weeping shores?
I used to dream,
I used to glance beyond the stars.
Now I don't know where we are,
Although I know we've drifted far.
Hey, what about yesterday?
(What about us) Echo between lines…
What about the seas?
The heavens are falling down.
I can't even breathe.
What about the bleeding Earth?
Can't we feel its wounds?
(What about us)
What about nature's worth?
It's our planet's womb.
What about animals?
We've turned kingdoms to dust.
What about elephants?
Have we lost their trust?
What about crying whales?
We're ravaging the seas.
What about forest trails?
Burnt despite our pleas.
What about the Holy Land
Torn apart by creed?
What about the common man?
Can't we set him free?
What about children dying?
Can't you hear them cry?
Where did we go wrong?
Someone tell me why.
What about babies?
What about the days?
What about all their joy?
What about the man?
What about the crying man?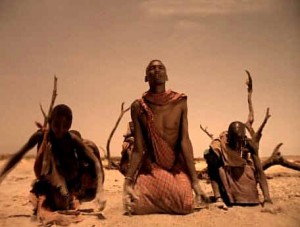 What about Abraham?
What about death again?
Do we give a damn?