Make Me Wanna Scream
Biased media journalism, coercive persuasion on the unwitting public and subtly deceptive marketing ploys make me wanna scream!
Today my son emailed me a Billboard Magazine link to what he called a "silly MJ animation." I am somewhat sorry that I clicked on the video because it gave Billboard Magazine a little bit of coin… which they don't deserve a penny of!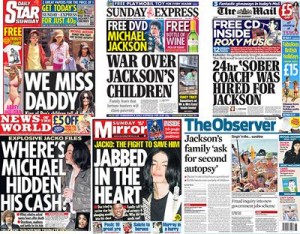 The "silly animation" turned out to be another example of the type of tabloid trash and media exploitation which Michael was subjected to for many, many years of his life. It makes my heart ache that greedy people target innocent people with such crass insensitivity just to make a buck. Unfortunately, it sells. They couldn't get away with it if it didn't. It sells to people who buy into the smug attitude which is actually the antithesis of what Michael himself believed in, and tried to promote. Michael Jackson's humanitarian efforts were herculean, to say the least.
Perhaps I spoke too soon when I said, "They couldn't get away with it if it didn't [sell]." Well, as current events proves, this isn't always true. Recently the influential media mogul, Rupert Murdoch, was recently exposed in the United Kingdom for deceptive journalism practices.
"…he's not afraid to use his media properties as weapons to further his vast -– and politically connected –- empire," the LA Times reported a few days ago. "In the United States, Murdoch has not hesitated to use his media holdings to advance the company's business agenda. Case in point is the battle News Corp. waged against Nielsen, the company which provides television ratings used to sell advertising on cable and broadcast outlets, including those owned by Murdoch such as Fox News, FX, Fox, and local TV stations including KTTV in Los Angeles." Full LA Times article HERE.
Aren't we glad that Murdoch said he was "sorry."
Barabara Kauffmann, founder of the Voices Education Project questions, "What social value is there in 7 inch headlines designed to bypass the brain and critical thinking, screaming labels like "freak," "naked," "evil," fat," "bizarre," "gay," "scandal" with an accompanying photo of someone now dragged to a public platform for dismemberment and humiliation? It both numbs and dumbs. What is heroic about clever linguistics and innuendo that plants labels or suggestions in people's minds with "sources tell me" when there are no "sources"? What is honest about printing half truths or lies front page and later, a retraction in small print on the back page? Sensationalism doesn't sell you news; it sells newspapers." Read Kauffmann's recent article about tabloid journalism at the Huffington Post HERE.
Billboard Magazine's type of marketing made Michael want to SCREAM!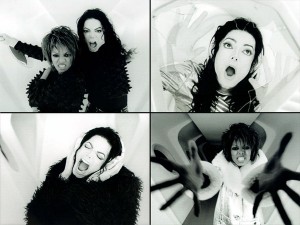 His fans were thrilled when he turned his frustration into a huge hit. In retaliation to the media's mean-spirited response to the false child molestation allegations hurled at him in 1993, Michael, with his successful sister Janet, produced his acclaimed song and music video, Scream.
"..well received amongst critics, it [the song, Scream] has been compared favorably to other accomplished pieces by Jackson. It went on to be nominated for a Grammy Award and an American Music Award. The corresponding music video remains one of Jackson's most critically acclaimed pieces; it won numerous MTV Video Music Awards and a Grammy. At a cost of $ 7 million, it was listed in the Guinness Book of World Records as the most expensive music video ever made." ~Wikipedia
Scream lyrics with music YouTube channel: GigaAkalan
Scream
Written by Michael Jackson, Janet Jackson, James Harris and Terry Lewis
Tired of injustice
Tired of the schemes
These lies are disgustin'
So what does this mean? (Daddy)
Kicking me down
I got to get up
As jacked as it sounds
The whole system sucks (Daddy it)

Peek in the shadow
Come into the light
You tell me I'm wrong
Then you better prove you're right
You're sellin out souls but
I care about mine
I've got to get stronger
And I won't give up the fight
With such confusions don't it make you wanna scream
Your bash abusin victimize within the scheme
You try to cope with every lie they scrutinize
Somebody please have mercy
Cause I just can't take it
Stop pressurin me
Just stop pressurin me
Stop pressurin me
Make me wanna scream
Stop pressurin me
Just stop pressurin me
Stop pressurin me
Make you just wanna scream
Tired of you tellin the story your way
You're causin' confusion
You think it's okay (damn it!)
You keep changin' the rules
While I keep playin' the game
I can't take it much longer
I think I might go insane
With such confusion don't it make you wanna scream
Your bash abusin victimize within the scheme
You find your pleasure scandalizin every lie
Oh father, please have mercy cause I just can't take it

Stop pressurin me
Just stop pressurin me
Stop pressurin me
Make me wanna scream
Stop pressurin me
Just stop pressurin me
Stop fuckin with me
Make me wanna scream
"Oh my God, can't believe what I saw
As I turned on the TV this evening
I was disgusted by all the injustice
All the injustice"
"All the injustice"
(News Man)
"A man has been brutally beaten to death by
Police after being wrongly identified as a
robbery suspect. The man was
an 18 year old black male…"
  With such collusions don't it make you wanna scream Your bash abusin' victimize within the scheme You try to cope with every lie they scrutinize Oh brother please have mercy 'Cause I just can't take it Stop pressurin me Just stop pressurin' me Stop pressurin me Makes me wanna scream Stop pressurin me Just stop pressurin' me Stop pressurin me Makes me wanna scream Stop pressurin me Just stop pressurin' me Stop pressurin me Makes me wanna scream Stop pressurin me Just stop pressurin' me Stop pressurin me Makes me wanna scream